A couple of months back I wrote a blog post about my favourite brooch companies (Click here to read the post). One of those companies I focused on was Poison of Choice. When a particular style of earring was shown on their Instagram

@poisonofchoiceshop

, that was the fuel I needed to make a cheeky purchase.
The company is run by a lovely lady called Yuliana and is based from Las Vegas, Nevada. If you love vintage inspired pieces or adorable Disney creations then you will also love this shop. Confetti lucite is the poison of choice (pardon the pun) for these perfect pieces. As well as brooches and earrings, there are also hair accessories for sale.
I have to show you the Snow White inspired apple brooches that are available! I haven't purchased one of these yet, but I love it and may have to in the near future. The mini one retails at £9.12 ($14.00 USD) and the normal one retails at £13.03 ($20.00 USD). Just look how (deadly but) cute!
Now on down to the nitty gritty...my purchases! The earrings that I saw on Instagram are the amazing flamingo dangle hoop earrings. I loved that I was able to choose a finish for them. I chose clip on as my ears are unable to take a heavy weight pierced and I prefer clip on earrings. These earrings were selling for $23.00 USD (£15.55) which is fantastic value!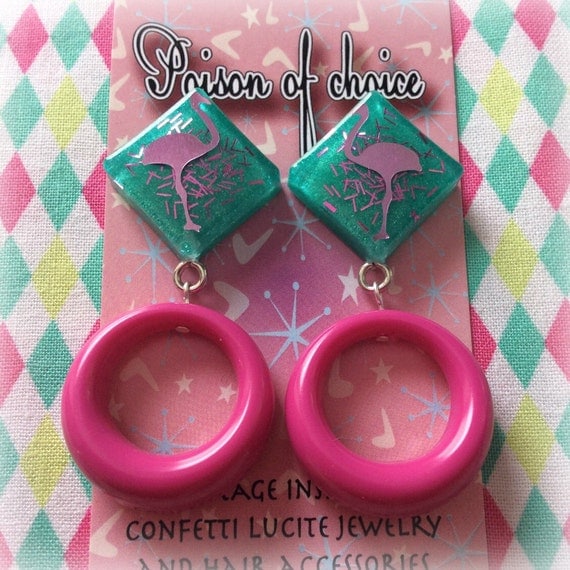 Flamingo dangle hoops - Etsy shop photo - $23.00USD
These match perfectly with my pink stripe top and sea foam green cardigan, both from Primark
Pink Glitter Hoops
My second purchase were these incredible pink glitter hoops. They were on sale at $17.00 USD (£11.50) which is good value and cheaper than many vintage repro lucite jewellery brands. These also had the choice of pierced or clip on, of which I chose the latter.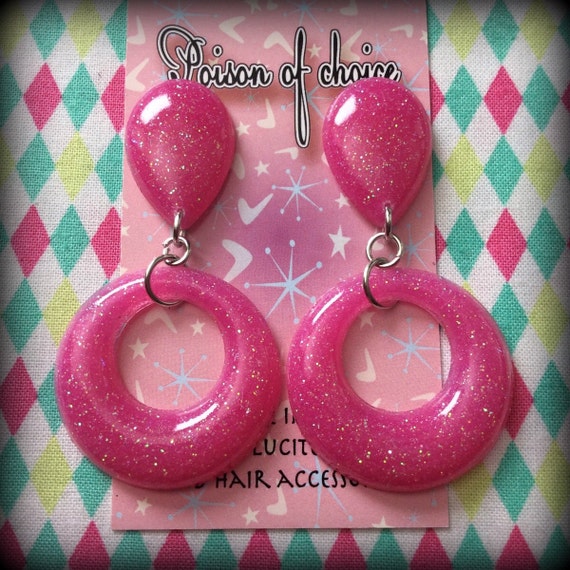 Pink dangle hoop - Etsy shop photos - $17.00USD
These are very sparkly - my camera can't handle the fabulousness of them!
Shipping
The shipping to the United Kingdom from Las Vegas was a reasonable price of $10.20 (£6.90) for the two items. The earrings arrived within 7 days which is very quick. The items arrived neatly packaged with a little note of thanks. Yuliana also threw in another pair of white and gold confetti lucite earrings, which was particularly lovely of her so thank you for that!