Mischief Made is a company based in California, USA and is owned by the ever-so-lovely Yuri who is originally from Tokyo, Japan. She designed all the lovely t-shirts featured herself and has a great selection available in her Etsy shop. The designs have the feel of a mix of classic vintage and traditional tattoos - two things which I love!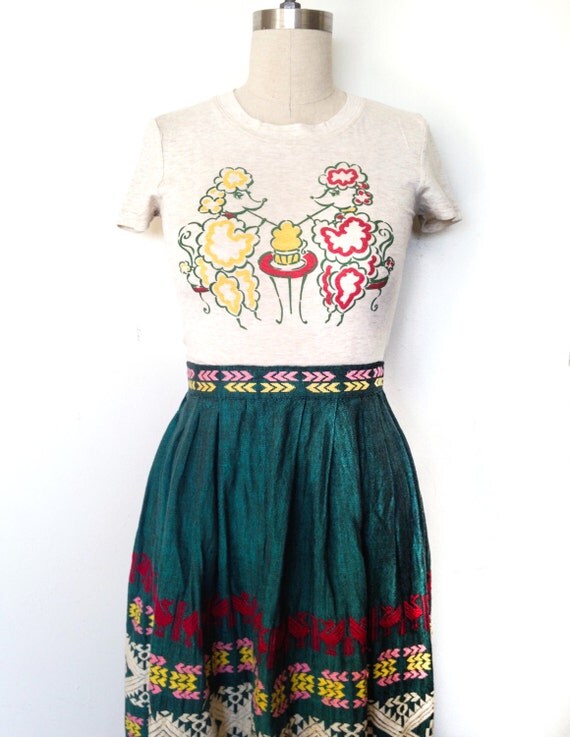 'Girls date' tee - I love the poodles that are enjoying their lunch!
I was lucky enough to be sent two of the new t-shirt designs: 'Harlequin Dancers' and 'Native American Girl'
Despite coming over from the states, my tees arrived within a week, which is very quick. When I removed them from the packaging, I immediately noticed the softness and high quality of the shirt - something which I take quite seriously. They are made of 95% cotton and 5% spandex. The colour of the tee is not white (which I am glad about because not only does this add to the vintage/retro feel of the tee, but I am not a fan of wearing white!) - it is a cream/oatmeal base. The print is not stuck on, but rather included in the fabric which will minimise print loss from washing etc.
This tee features two beautiful dancers on the front with a zig zag pattern in the background. This has a very 1950s feel to it. I love the soft blues in their costumes - which makes it perfect to wear with pastel blue as well as aquamarine like I have paired this tee with in my photos.
Native American pinup
This tee features a traditional-style Native American pinup girl in browns, reds and teal. I love the traditional tattoo style of this top mixed with the Native American style which was revived in the 1950s. This tee is also a PERFECT match for my Vivien of Holloway pencil skirt. You could also wear it with jeans or capris for a casual look!